It's day twelve of a one month vacation.
You're on an island with an exotic sounding name… could be Ibiza.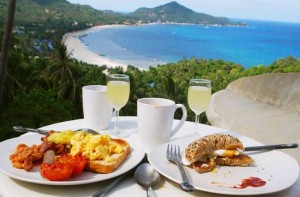 The past few days, you've kinda settled into a routine.
It goes a little something like this…
"You wake up to a gentle Mediterranean Sea breeze… The love of your life is laying next to you in bed… There's a polite knock at the door… it's room service… breakfast is served.
You sit out on the balcony of your luxury suite… enjoying a buffet of fresh fruit and savory island delicacies… Yum!
Next… you're off to explore the island for a day of fun and adventure… You have blast.
Finally… when the sun goes down… you hit the clubs… The music is pumping and you're partying like it's 1999… but it's 2014."
Not today, though.
You feel like kicking back.
That party last night was crazy. You swear someone was dancing on the table.
And wearing a bikini.
And the head of a bunny costume.
Maybe you had too many shots of tequila?
Yeah.
Sitting on the beach and watching the waves pound the sand sounds like a good idea.
Then you remember.
You haven't checked-in with "civilization" since you've been here.
You take your Macbook with you down to the beach. As you sit back, sipping a Pina Colada (served in an actual pineapple), you fire up the laptop to check your email.
A huge smile spreads across your face. You think to yourself, "This is awesome!"
Your lover in the beach chair next to you is staring off into the distance.
But replies, "Yeah – it is beautiful."
Hmm, didn't realize you spoke aloud. But you're not talking about the aquamarine waters stretched before you.
You're looking at your inbox.
Almost every email is a sale notification. A completed transaction. A payment confirmation.
It's like you've been spammed by a hundred crazy Nigerian scammers who – instead of asking you for money – decided to send you some!
You were happy before.
You're really bubbling now.
You scan the emails for customer service issues…
Nope. Not-a-one.
Payments are processed on your website 24/7 and products are delivered automatically.
You're finally living the "Internet Lifestyle" that you've dreamt about for so long.
 You close your laptop and turn to your partner…
"Babe, wanna go scuba diving?"
[divider_bar_wide]divider [/divider_bar_wide]
Sounds great, doesn't it? Keep reading if you want to learn how you can make the "Internet Lifestyle"
your

reality.